Digital Worth Academy is an affiliate marketing training platform that provides training on building a successful affiliate business. It was created by two successful and trustworthy affiliate marketers, Sara Young and Andrew Hansen. They have teamed up to help students of the course find financial freedom, but are people making money?
In this review, we will look at what Digital Worth Academy offers. I'll be explaining how it works. We'll also look at, who it is for, and the cost of the course. This review should help you decide whether or not it can help you make money.
What is Digital Worth Academy?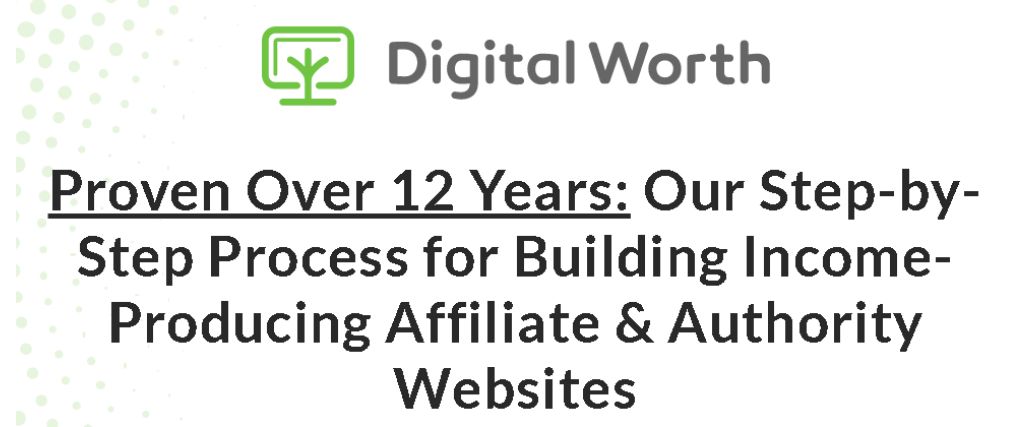 Sara Young and Andrew Hansen have joined forces to create the Digital Worth Academy. It is a course that provides training and resources you need to develop an affiliate marketing business.
They have 20 years of experience with digital entrepreneurship. This means they can help people who want to succeed in this area by using DWA's resources.
If their names sound familiar it is because these two prodigies have both built successful courses in the past. So, at least we know the creators have well-established backgrounds
How Does Digital Worth Academy Work?
Constructing a business around Amazon's affiliate program and Clickbank digital products is your main focus in this course.
However, you are free to join any affiliated programs that suit your website. This includes the Digital Worth Academy affiliate opportunity, which lets you benefit from commissions when advertising the course.
Follow My Proven 4 Step Formula
Whether you are just getting started, have some experience, or are an ultra-successful affiliate marketer, this 4 step formula is made for you!
Building an affiliate marketing website with ads and product links will assist in generating profitable commissions.
What Does the Digital Worth Academy Course Consist Of?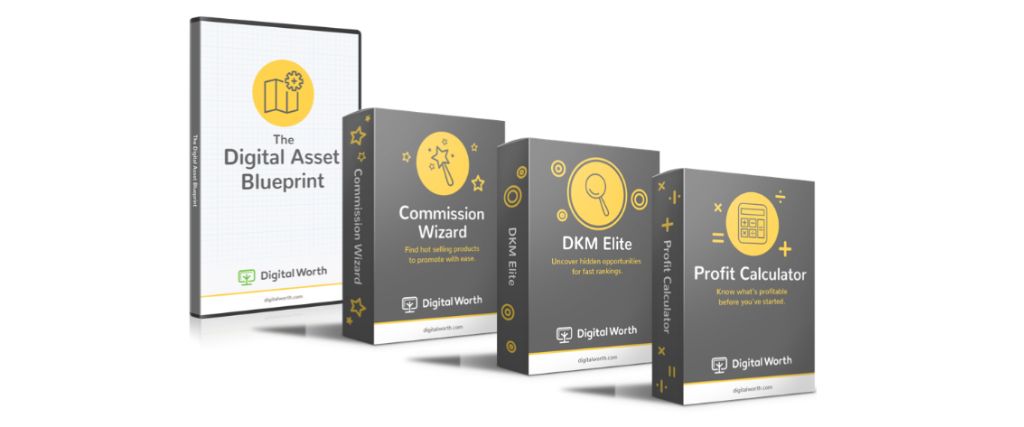 Here's what the course consists of:
The Digital Asset Blueprint: This course is jam-packed with 6 sections. More than 30 modules, and 150 videos. They take you through the entire process of setting up your very own affiliate marketing website.
Commission Wizard Software: A powerful tool specifically designed to scan for products based on your criteria. It shows only those items most likely to bring in the highest profits.
DKM Elite: A seemingly valuable asset, the Diamond Keyword Miner keyword research tool is available for free on a trial basis.
Profit Calculator: This software calculates the monthly income potential from any items you want to add to your website.

Additionally, there are weekly live Q&A sessions with Sara Young & Andrew Hansen. Here they answer any questions students may have about the course material. They also share their own experiences in building an online business.
How Much Does Digital Worth Academy Cost?
Digital Worth Academy is a pretty comprehensive course. It consists of a variety of bonuses and support services along with full PDF transcripts. So, how much does all this cost?
The whole course will cost you a one time payment of $797.
No installment payments are available. Also, keep in mind that this price doesn't include the additional investments that will be needed throughout the course.
These include a required domain name and hosting service. And let's not forget the Digital Wealth Academy's (DWA) proprietary keyword tool at just $37 per month.
Who is Digital Worth Academy For?
DWA claims to be the perfect resource for those seeking to learn how to create a profitable affiliate business.
On the sales page it states you can be a beginner or an experienced blogger. They can help by giving you the information and tools that are necessary for success.
Can You Make Money with Digital Worth Academy?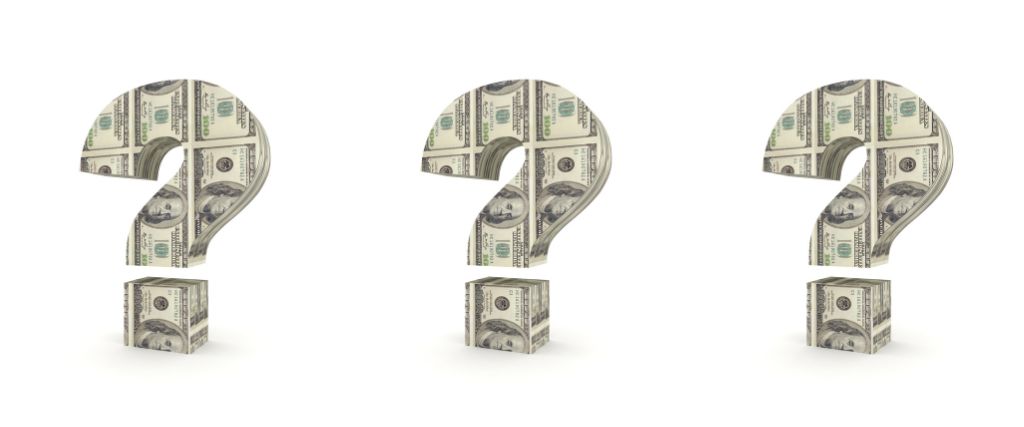 A multitude of screenshots on the landing page illustrates potential earnings if organic traffic is present. However, their Earnings Disclaimer clearly states that there is no guarantee of an income. Ultimately, your financial success will depend on the niche you select, existing market conditions, and much more.
With Digital Worth Academy, you assume full responsibility for your success or failure. Ultimately, it is up to you if you want to make money with this program.
One of their primary affiliate programs involves Amazon products. However, after they decreased commission rates on many product categories, many affiliates have chosen other areas to promote. This is due to how unrewarding the low commissions can be.
Visiting the landing page shows some evidence that students have gained success. However, it is somewhat dated information. So, there is not absolute clarity if current students are continuing to obtain great results.
Pros And Cons Of Digital Worth Academy
Pros
The Creators Do Share Some Valuable Knowledge.
Cons
Even the it is Claimed to Be Beginner Friendly, the Course is Very Rushed.
Hidden Fees for Tools and Resources is not Mentioned.
Is Digital Worth Academy A Scam?
The Digital Worth Academy isn't a con but you won't become an overnight millionaire either. With the creators having years of experience in affiliate marketing, this program offers legitimate methods to success.
Though there is no evidence that students have found success with the course yet, it does offer some trustworthy advice.
Like any other type of business venture, there are no guarantees that you will make money. So, you must understand what's involved before investing your time or money into this program.
A Better Alternative To Digital Wealthy Affiliate Vs Digital Wealthy Affiliate
Affiliate marketing can be a great way to make money online. However, it's important to understand that success in this field requires dedication and hard work.
If you're looking for a more comprehensive program with expert guidance and support, then their is a better option. My recommendation is Wealthy Affiliate.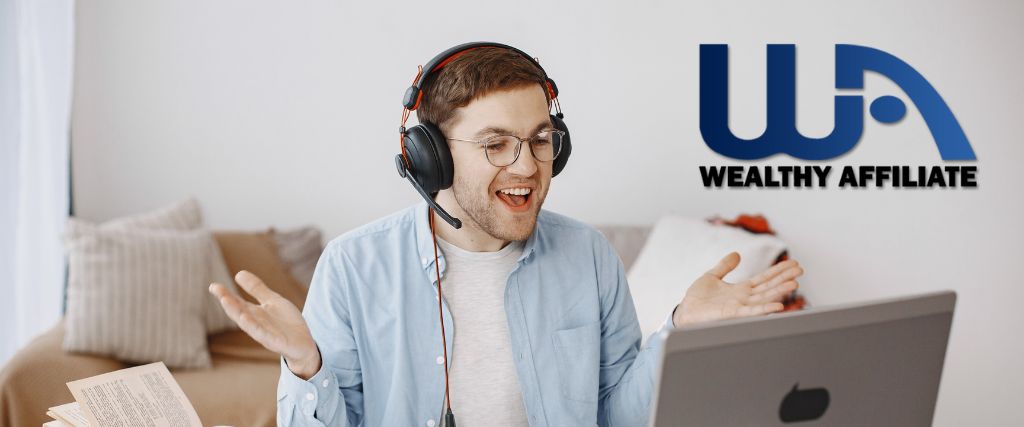 Wealthy Affiliate is really worth considering. Unlike Digital Worth Academy, there are no upfront costs and you can get started for free.
Wealthy Affiliate has an easy-to-follow, step-by-step training program. The popular training platform covers everything you need to start a profitable business. You'll also have access to a vibrant, helpful community of affiliate marketers who are willing to help you every step of the way.
Here is a Comparison of Both Platforms:

My Final Verdict On Digital Wealthy Affiliate
It's important to note that no affiliate marketing training program can guarantee success or financial gain. With this particular training program, you'll need to bear in mind there are other costs involved.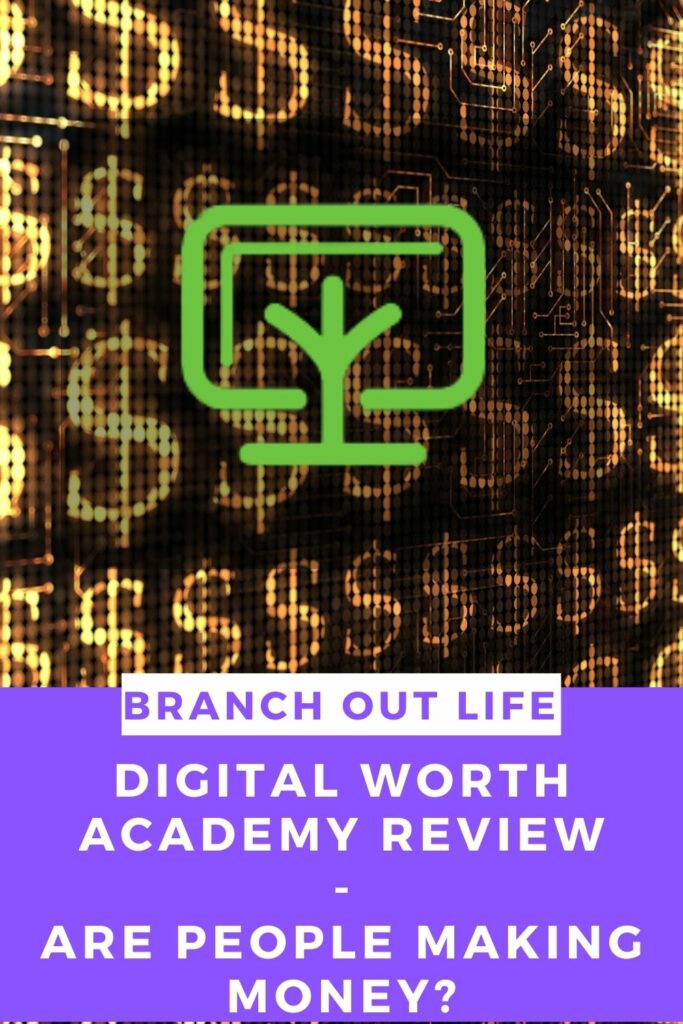 You must at the very least purchase a domain name and host. Now, don't forget it is also suggested that you invest $37 monthly for the keyword tool too. As such, before generating any revenue, considerable funds have already been spent!
If you're serious about launching your very own affiliate marketing business, then my number one recommendation is for you.
Not only will you be provided with hosting and a website but also first-class training. Combine that with 24/7 support and some incredible tools; and you've got it made. As if that wasn't enough, I'll be there to offer personal assistance throughout the journey as well!
Get Your Free Starter Membership Below: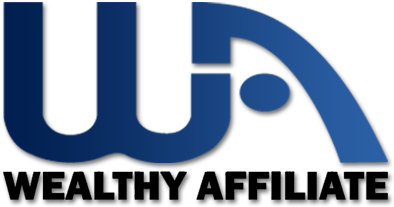 Wealthy Affiliate
Join the Online Training Platform that has Personally Helped Me Create a Profitable Business Online. Let the WA Community Help You Reach Financial Freedom!!