If you have recently used WordPress in the last 5 years, for your websites, then odds are you have heard of the GeneratePress Theme. You may even be using the free version of this popular theme. However, some users may be unaware that there is a Premium version. Hold Tight, because we will be going over everything you need to know in this GeneratePress Premium Review.
Yes, this innovative site building theme has gotten even better. Brand new features added to enhance your sites performance. From a block based theme builder to hundreds of customizable controls, going Premium can bring your sites performance to the next level.
While it is true that some users have been loyal to other popular web site building themes. The GeneratePress Premium plug-in has been slowly but surely been gaining more users and becoming a staple for WordPress sites.
In this GP Premium Review, I am going to open the door and let you see for yourself, what this theme plug-in has to offer. You then can decide if this would be right for your site.
Since it's launch in 2016, Generate Press has been the go to theme for WordPress Users. It's popularity continues to grow and it's easy to see why. The ease of use allows you to create any type of site you want. Not to mention, the wide variety of customizable already made templates, that allow you to build amazingly rich website designs.
One of the biggest benefits that the GeneratePress theme is known for is it's performance. This theme was created with primary objectives in mind. That is, to give the user the best lightweight WordPress theme, that foucses on speed, stability and accesibilty. Being a GeneratePress user myself, I can honestly tell you that they definitely deliver.
Speed
The themes size is less than 30kb, which is one of the smallest themes for WordPress. This gives GeneratePress an edge, as it allows it to have an incredibly fast load time without sacrificing usability and design. Even with all it's features enabled, it still performs faster than any other WP theme.
Follow My Proven 4 Step Formula
Whether you are just getting started, have some experience, or are an ultra-successful affiliate marketer, this 4 step formula is made for you!
Stability
As fast as it is, GeneratePress keeps all the functionality of your website superbly intact. It is highly compatible with a majority of plug-ins and GP support is very responsive if any issues would arise. You can rest assured that your site will run on all cylinders using GP.
Accessibility
When in comes the accessibility of the GP theme, the support staff are always on the ball. They follow WCAG 2.0 standards, and work closely to insure that no user is left out from any of it's web features.

GP Premium is a plug-in that truly takes your Theme to the next level. With the addition of new customization controls and a block based theme buider, GP Premium is definitely a tool that any WordPress user should have.
Below are the added and improved features that are availiable with GP Premium:


Now, the GeneratePress theme is already filled with some great customization features that will help you design a pretty amazing site. However, in my opinion the additional options that are given with GP Premium can make your site epic.
Let's delve a little farther into the main add-ons.

Generate Blocks
Generate Blocks is a block based site builder plug-in, that is free with GP Premium. This plug-in allows you to design your site using it's vast selection of block element options. This gives you the ability to design your site without needing to use code. You will have total design freedom to customize and create whatever you want.
This is a huge thing for GeneratePress. In my opinion, one of the only flaws that GP had was the lack of a drag and drop builder. Adding this to the GP aresenal gives you the creative control you need to bring your ideas to life.
Here is a short video below that gives you a preview of Generate Blocks:
Site Library
While creating your website from scratch may tickle that creative mind of yours, sometimes it is good to start out with a template. GeneratePress as it is, already has a pretty big selection of DFY templates to choose from. Now, with GP Premium, they have added some an extensive selection of amazingly stunning Professional Website Templates.
Check out the video below.
Pricing
Yearly
$59
Full access to the Site Library
1 year of premium support
Use on up to 500 websites
30 day money-back guarantee
Lifetime
ONE TIME PAYMENT
$249
Full access to the Site Library
Use on up to 500 websites
30 day money-back guarantee
Pros and Cons
Pros
Lightweight and Super Fast Load Time.
New Block Based Site Builder is Very Easy to Use.
Vast Library of Professionally Made Website Templates.
Cons
May Not Be the Preferred Style for Some Users Website Design. ( However, Most WordPress Users Swear by It.)
My Personal Opinion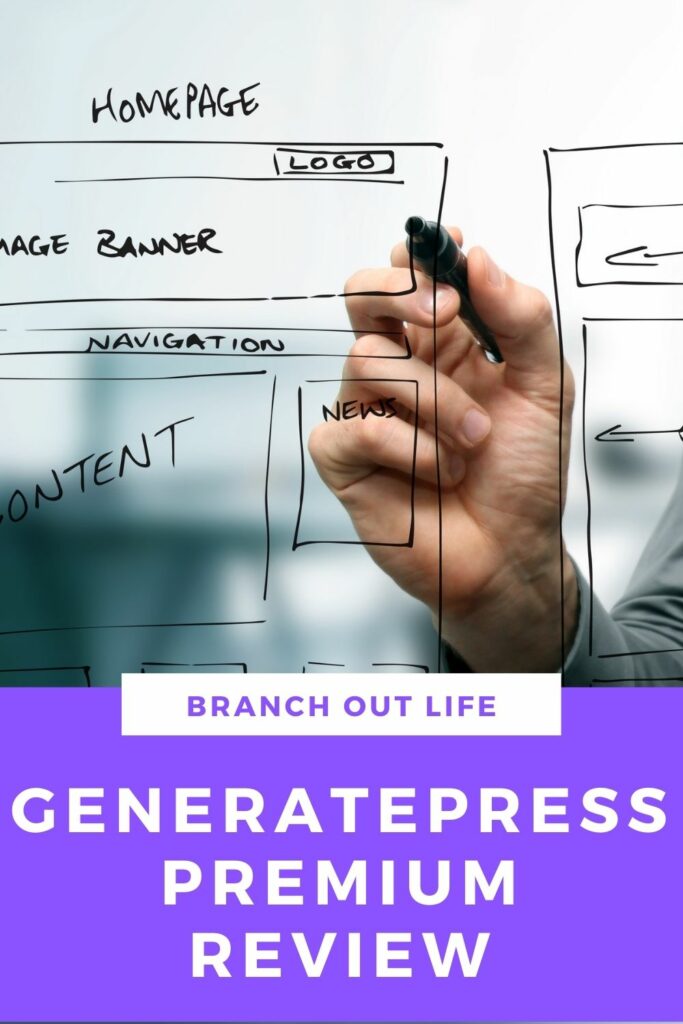 Generate Press, hands down, is one of my favorite themes I have ever used with WordPress. The speed, simplicity and creative control is what has made this theme a staple for any WordPress user.
Now with GP Premium, and it's additional features, it has made this top theme even better. The new Generate Blocks has taken it's ease to new heights, and in a way has canceled out it's only flaw.
The numerous new features has added options that will be useful for beginners or advanced users of WordPress. Elements that use to be a pain to customize are done with just the click of a button. Saving any user time and the unwanted headache of code design.
In all I'd have to say that GP Premium is well worth it's price. It's versatile and very easy to get started if you are new to WordPress.
If you happen to be new to the world of online business all together. Then make sure you check out my #1 recommendation to starting a profitable business through affiliate marketing.
Yearly $59 - Lifetime $249
Pros
Lightweight and Super Fast Load Time.
New Block Based Site Builder is Very Easy to Use.
Vast Library of Professionally Made Website Templates.
Cons
May Not Be the Preferred Style for Some Users Website Design. ( However, Most WordPress Users Swear by It.)