Before I get started on this My Online Startup Review, I'd like to put in perspective, what has been the sad truth about affiliate courses. As a somewhat seasoned entrepreneur, I have seen a lot of online training courses on affiliate marketing. Unfortunately, most of these courses are very poorly done.
They are usually set up by inexperienced affiliate opportunists, who are only in it just to make money off beginners. They lure them in with some free bit of info on starting off as an affiliate, then they charge an outrageous price to take a course promising them they'll learn to be a Super Affiliate.
So, these new entrepreneurs go for it, only to be taken through a crappy course that just shows them the bare basics. Leaving them clueless as to what they have learned, and left still wondering how they are suppose to start. I've seen it too many times to count now. Hell, I even fell for a lot of them myself when I started.
It's Not All Bad
Now, not all these courses are bad. In fact there's a lot of good ones out there. Put on by people who really do want to help others learn to achieve online success. My Online Startup, happens to be one of them.
In this review I'm going to take you inside My Online Startup, and show you exactly what to expect from this innovative training platform. As someone who has thoroughly gone through the course, I can tell you what I liked and what I didn't like.
Follow My Proven 4 Step Formula
Whether you are just getting started, have some experience, or are an ultra-successful affiliate marketer, this 4 step formula is made for you!
Let's get Started.
My Online Startup Review – What is MOS?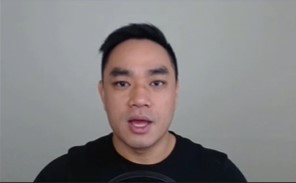 My Online Startup is a Free Education Platform created by expert Online Marketer Chuck Nyguyen. He designed this course to help beginner entrepreneurs learn to build a 6-figure online business from scratch. From the detailed explanation of how affiliate marketing works to a step by step blueprint to setting up a profitable blog, Chuck leads his students with a true understanding of how to reach their goal.
Right from the start of this course, you can really feel Chucks passion for these lessons. You get the feeling that he is one of the successful online marketers that truly cares.
A Quote from Chuck himself:

My Online Startup Review – What Does the Course Consist Of?
The course in MOS, is quite simple, but it truly depth in depth on the exact path to create a successful affiliate marketing business. Chuck is an amazing teacher that breaks things down, in a way that's detailed and easy to understand.
You can check out the MOS course dashboard below: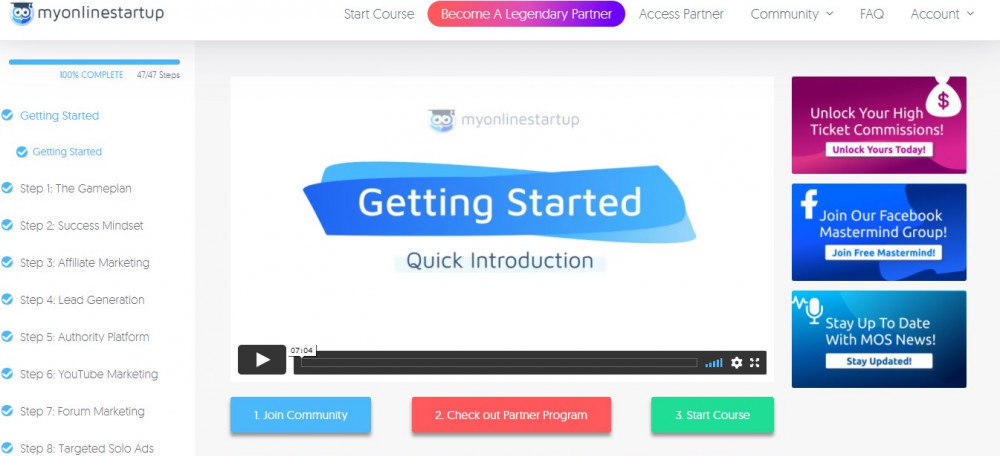 I will do a quick description of each lesson module below.
Getting Started – In this first step, Chuck welcomes you to the training and gives you a quick introduction of himself.
Step 1: The Game plan – Here Chuck shows you the exact blueprint of what you are going to learn and how you will implement it.
Step 2: Success Mindset – The course kicks off with a very crucial lesson on getting yourself in the right mindset. You will be going through various topics such as a Personal Success Formula and a Clear Income Goal. Preparing your mindset is laying the foundation for success.
Step 3: Affiliate Marketing – In this lesson you will learn the fundamentals of affiliate marketing and how it works. Chuck will go over the process of choosing your niche. Picking a product to promote, and he will also let you in on an unfair advantage you will have through this course.
Here's Where the Fun Starts
Step 4: Lead Generation – Here you will learn how to set up a lead generation plan. Creating Lead Magnets, Automatic Follow ups, and Capture pages; will all be covered here.
Step 5: Authority Platform – In this lesson Chuck will show you how to create a blog website. He explains the process of using this platform to become an authority in your niche. Gaining the trust of your targeted audience.
Step 6: You Tube Marketing – Here you are shown how to set up a You-Tube channel. Topics will range from Video Editing, to the best types of videos to create.
Step 7: Forum Marketing – This short lesson, describes the process of harnessing Leads through Forums. Specifically Warrior Forum.
Step 8: Targeted Solo Ads – The final module in this training is based on the use of Solo Ads to get traffic to your offers or website. Chuck gives a great lesson on the best way to use Solo Ads and also gives his list of trusted solo ad vendors.
My Online Startup Review – What is the Partner Program?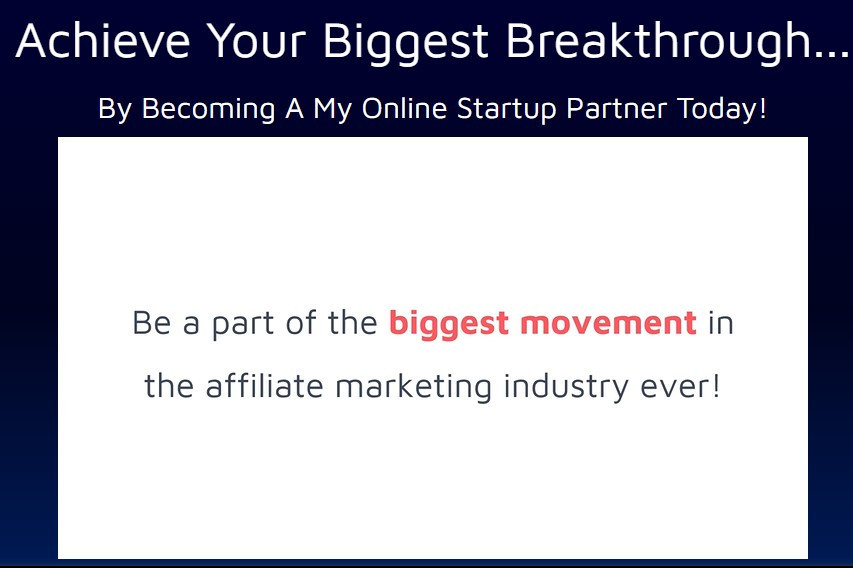 One of the best things that comes with taking this free course is the opportunity to earn commissions just by becoming a Partner with Chuck. That's right, you can literally use his My Online Membership Program and use it as your own.
How Much is it to Become a Partner?
The price to become a Partner is a 1 time payment of $197.
(This one time fee will be changing soon to a monthly plan, so this is the absolute best time to become a partner. Becoming a Partner now means you won't have to pay the monthly fee once the system changes.)
Now I know what you're thinking. "I thought you said the My Online Startup course was Free?"
Well it is Free, Just let me explain.
As you go through the My Online Startup Course, you will hear Chuck mention the Partner Program. He explains that if you choose to become a partner (which is completely optional), you will be able to earn commissions through the MOS course. Now these are not just one time commissions, a lot are recurring. You will have the opportunity to tap into over 100+ income streams throughout the course. So the price you pay to become a Partner is actually more than worth it, considering the amount of recurring commissions you will accumulate.
Commissions as a Partner
After you become a Partner you are given access to promote the MOS course, and you can start earning commissions from day 1. All you have to do is recommend the MOS free course to others who will greatly benefit from the training. Once your referals join, they are also given the opportunity to become Partners. When they sign up for the Program, you get a $100 commission. Don't be surprised if you see payments coming to you right away. A lot of people join the Partner Program.
(These commissions will also be changing to recurring monthly payments.)
(Updated 7/23 – New DFY Blog site is ready within the members site.)
Here are a few testimonials posted on the MOS Inner Circle Facebook Page: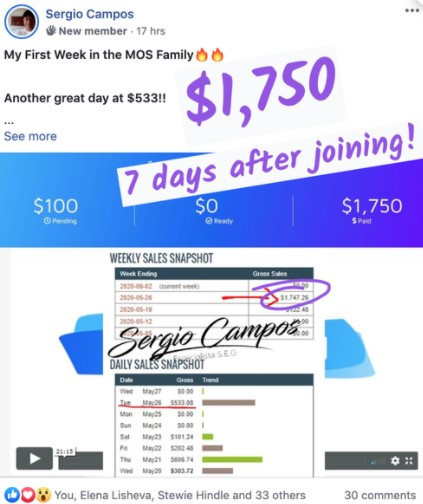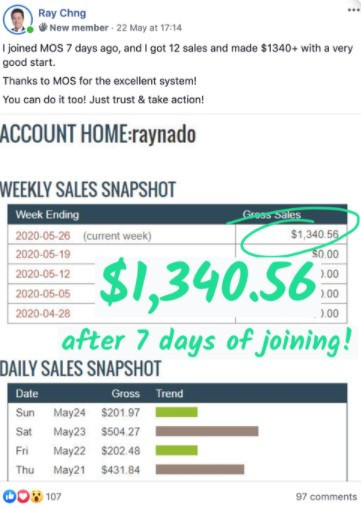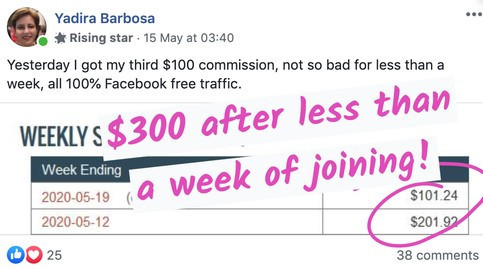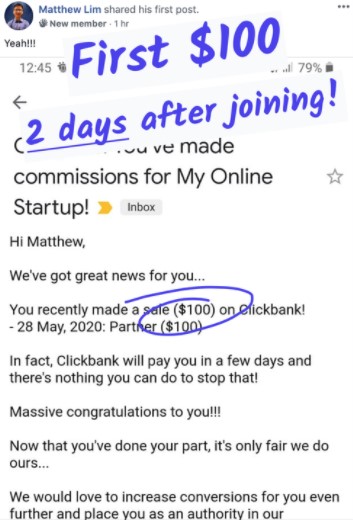 After you become a partner you unlock another course, in which Chuck goes into advanced strategies and resources that will help you get the maximum benefits of being a Partner.

As a Partner you are also given access to Chucks Inner Circle group on Facebook. It is a group where Chuck gives out guidance in some of the best strategies in Affiliate Marketing. It is also a great place for you to collaborate with other Partners and give advice to each other.
My Online Startup Review – Earning from Income Streams
As I said above, becoming a Partner gives you access to over 100+ income streams to earn commissions through the course. All of this is explained in detail by Chuck, as you go through the Partner course.
Here is a brief explanation from the MOS Q&A section:

Pros and Cons
Pros
Very Well Taught Course on Starting a Profitable Online Business and Doing it the Right Way.
The Opportunity to Earn Commissions from 100+ Income Streams is outstanding and very innovative.
The Course is Spot On when it Comes to Showing the Exact Steps to Starting your Online Business. Chuck doesn't leave you hangin. He Shows you How to Implement these Steps.
DFY Blog site, Email Autoresponder, and Inner Circle mentoring are great additions to their Platform.
Cons
Even Though I believe the Partner Program Fee is Worth it, the Price May be a Bit Too Much for Some Beginners.

(Again, This will be Changing to a Monthly Fee.)
While MOS does go Through the Important Steps to Starting Off in Affiliate Marketing, It Doesn't go thru Other Aspects of this Business Model. Other Training would be Needed to Reach New Levels in your New Business.
My Online Startup Review – My Final Verdict on MOS
While My Online Startup has helped thousands of aspiring entrepreneurs get started in the world of Affiliate Marketing, it's surprising that very few know about it. It really is a shining gem among the thousands of poorly made affiliate courses.
What Chuck has created is pretty impressive and right now he's in the process of making it even better. His goal is to make this the only platform that beginners will ever need to start a profitable business. In my opinion, he's on the right track I've seen a lot of affiliate courses that just fall short and don't really explaing exactly one needs to be done to succeed. This course basically takes you by the hand and makes sure you are going the right way. Best of all it's Free.
It's Not All Perfect.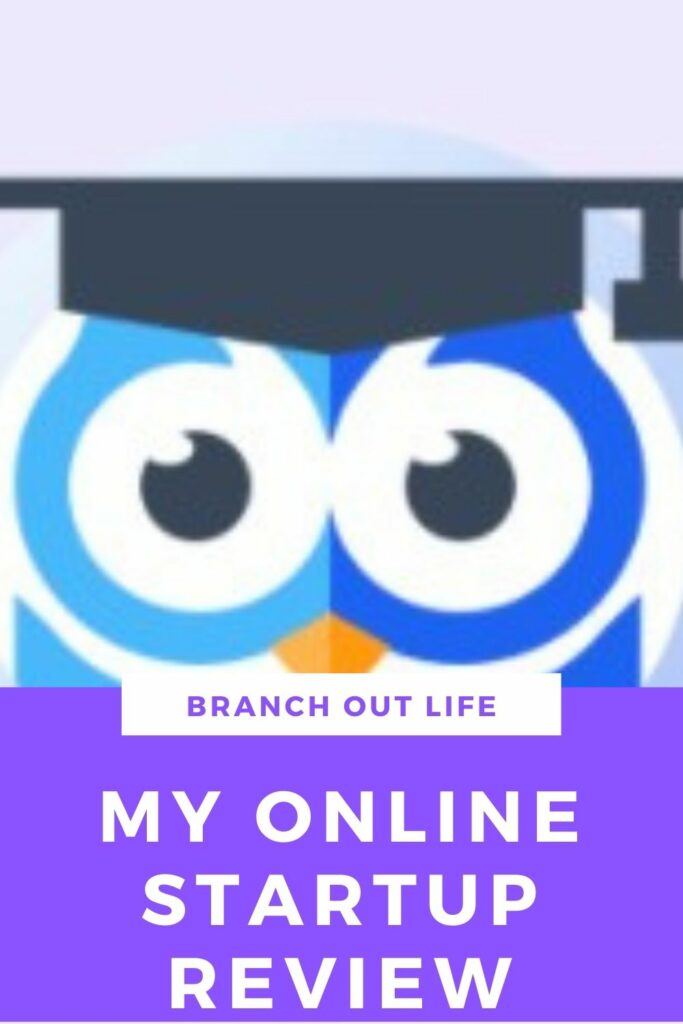 Now, There are some things that I believe should be done to make this Platform better.
The course is rather drawn out and I can easily see a lot of students losing interest and just quiting. So, I do think the lessons could be shortened. Also, a lot of major points are left out in setting out a path to Affiliate Marketing.
Chuck does show one way to go about starting in Affiliate Marketing, and I guess in is an easier route. However, there are a lot more aspects to it than what is talked about in the main course. I believe it is touched upon in the Partner Course, but the course kind of makes you stick with this one path.
Why This Isn't For Some
Speaking of the Partner Course, I think it is a truly innovative and an amazing program. Here's the thing though. A lot of people join the Partner group and just expect to make sales. They don't follow some of Chuck's training, so they don't follow the game plan set for them. Leading them to be discouraged because they aren't making commissions. Well to see any money, you gotta do the work.
Give it a Try
In all, I highly recommend My Online Startup. There are things that should be improved on, but I believe it to be a very valuable course that any beginner affiliate marketer should take. Especially cause it's Free. You can sign up for the course and start right away, by clicking the button below.
Want Some Guidance?
MOS is a great educational platform for affiliate marketing. However, it does lack some of the main fundamentals of creating a profitable online business. There is another option that has helped thousands reach the status of financial freedom.
Join my #1 Recommendation to Starting a Successful Affiliate Marketing Business
You will get a Free Website, Free Hosting and Free Training. Access to Coaching, Weekly Training Webinars and Online Support. A whole community of like minded successful entrepreneurs will be there to help you with any hurdle you may have. Oh and I'll be there too, helping you along the way.
See ya on the inside.