Wealthy Leads is an online platform that promises to teach you the ins and outs of making passive income through cryptocurrency. It claims to help beginner investors understand the basics of digital trading, as well as give them more advanced advice on how to maximize their profits in the crypto market. But with all these lofty goals, can Wealthy Leads actually deliver? In this Wealthy Leads Review we'll take a deeper dive into this program. Everything will be explained to find out what it offers and if it's worth your time or money.
What is Wealthy Leads?
Wealthy Leads is an online platform that promises to teach you how to make a passive income from cryptocurrency. It was created by Richard Telfeja and Laz Chavez Price.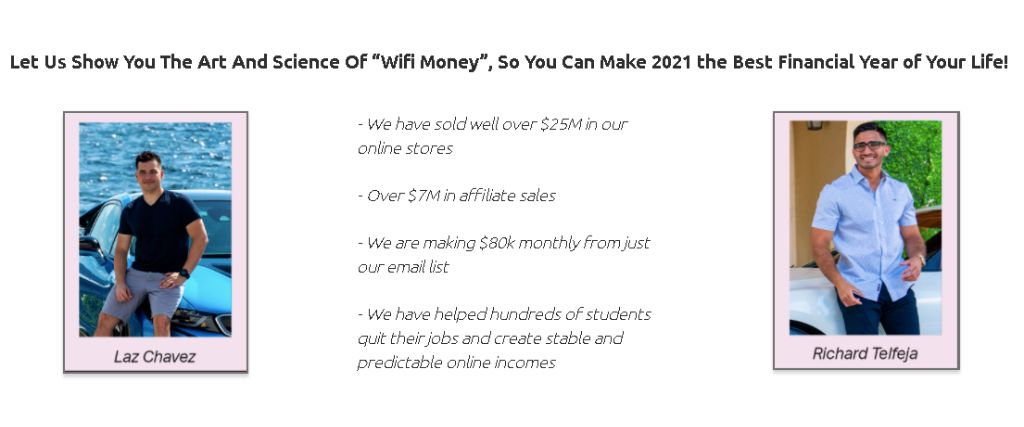 Both creators seem to have had massive success in the cryptocurrency investment world. It is that success that gave them the push to teach their knowledge to others.
The platform is geared towards beginners who want to learn the basics of crypto trading as well as more advanced strategies for maximizing profits.
While cryptocurrency can be highly profitable, it is also a hard business skill to learn. This is what gave me a bit of skepticism while researching this program.
How Does Wealthy Leads Work?
The wealthy Leads flagship program is an 8-week course that promises to teach you how to make a 7-figure passive income.
The course consists of Niche and Product Selection, Creating Sales Funnels, Lead Generation, Email Marketing, and Converting Leads to Sales and bonuses.
Follow My Proven 4 Step Formula
Whether you are just getting started, have some experience, or are an ultra-successful affiliate marketer, this 4 step formula is made for you!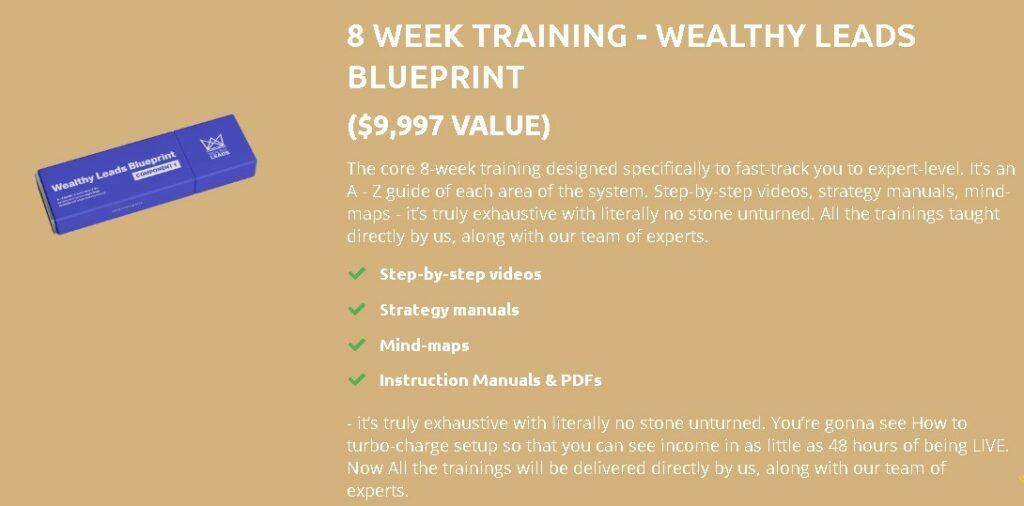 The journey starts with a flashy landing page where you are prompted to enter your email address to get more information. After submitting your email address, you will be asked to fill out an application form before being granted access to the course.
How Much Does Wealthy Leads Cost?
The Wealthy Leads program is not cheap. It costs $4997, and that's just for the course itself. While you can pay in installments, it's still a hefty price tag.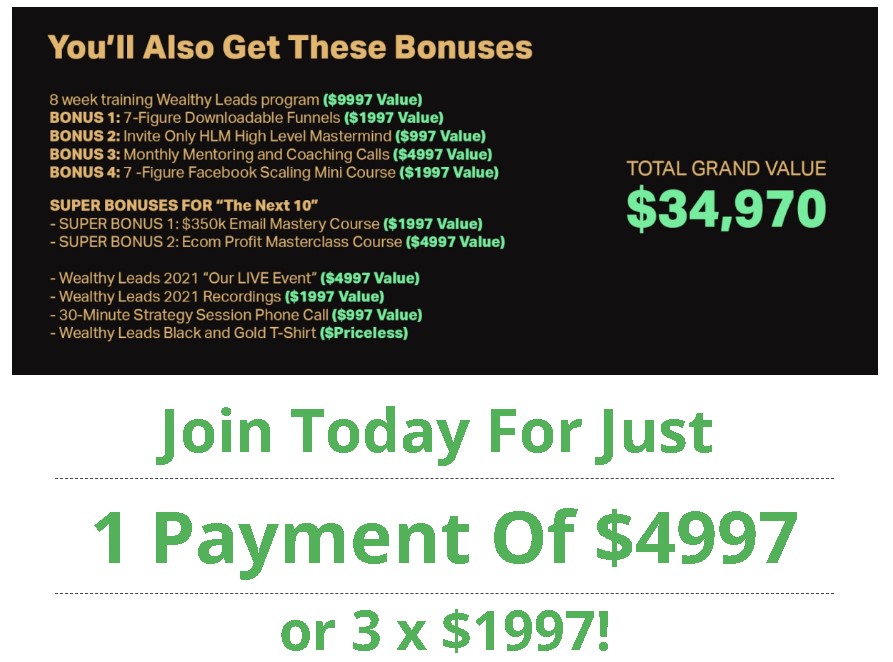 I am also quite sure there are hidden costs associated with the program that they don't tell you about upfront.
Fees for a website domain, hosting, and email services are going to be a given for this course.
So if you're considering signing up for Wealthy Leads, make sure you do your research first and understand what all the costs will be before committing.
Who is Wealthy Leads For?
So, the course is designed for anyone interested in learning more about cryptocurrency and investing in it. On the sales page, the claim is that the methods can be used by beginners as well as experienced buyers.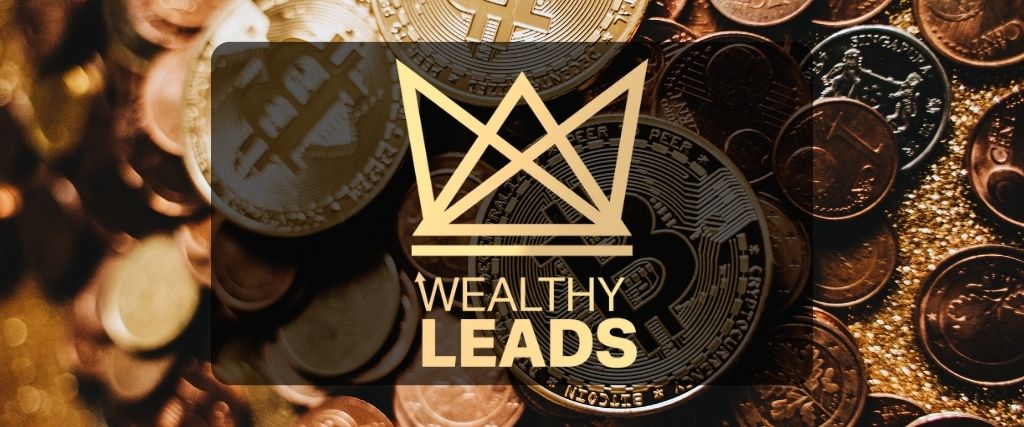 The course also focuses on niches and products, making it an ideal choice for those wanting to learn the fundamentals of affiliate marketing.
That being said, I still have my doubts on if this can be the miracle course that can make beginners money.
Can You Make Money with Wealthy Leads?
There were no testimonies that showed that students have made money from Wealthy Leads. This is not surprising as making money from cryptocurrency can be a difficult task.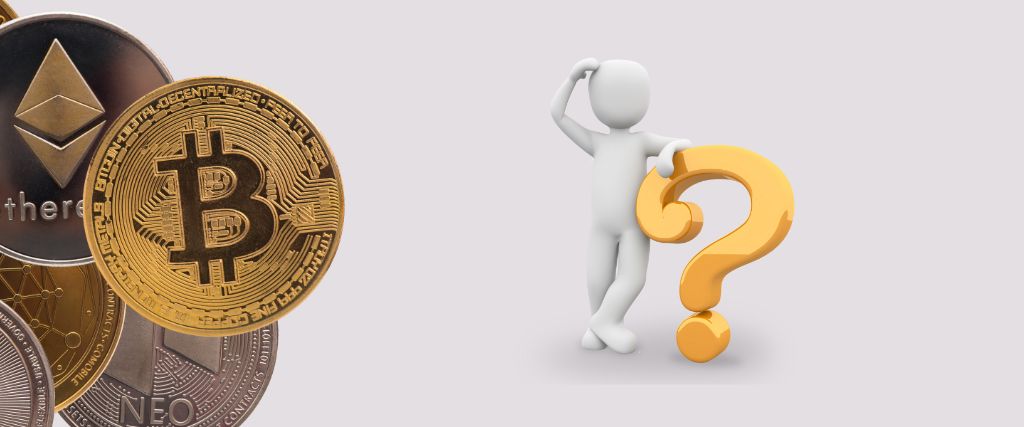 Fortunately, there are free courses and videos out there which can provide the same information as Wealthy Leads. So if you're looking to make money with cryptocurrency, it pays to do your research beforehand.
Pros And Cons
Pros
The Course is Pretty Thorough, and Breaks Down the Process Very Well.
Template Sales Pages Look Great.
Cons
The Price of the Course is Pretty Outrageous, Considering Some Info Can Be Learned on Other Platforms for Free.
Hidden Fees Are Not Mentioned.
No Real Proof of Students Making Any Money From This Course.
Is Wealthy Leads a Scam?
The course seems to be legitimate. however, ensuring profit from the course seems overly ambitious. There is no proof that you'll make money. With the amount of money you pay for it, there should be some evidence that these methods will work.
Additionally, the fact that hidden fees required for certain tools within the course are not disclosed upfront may seem suspicious.
Overall, it's up to you to decide if Wealthy Leads is worth your time and money. Do adequate research and make sure that the course is suitable for your goals before investing in it. That way, you'll be able to determine whether or not it's worth your money.
Final Thoughts On Wealthy Leads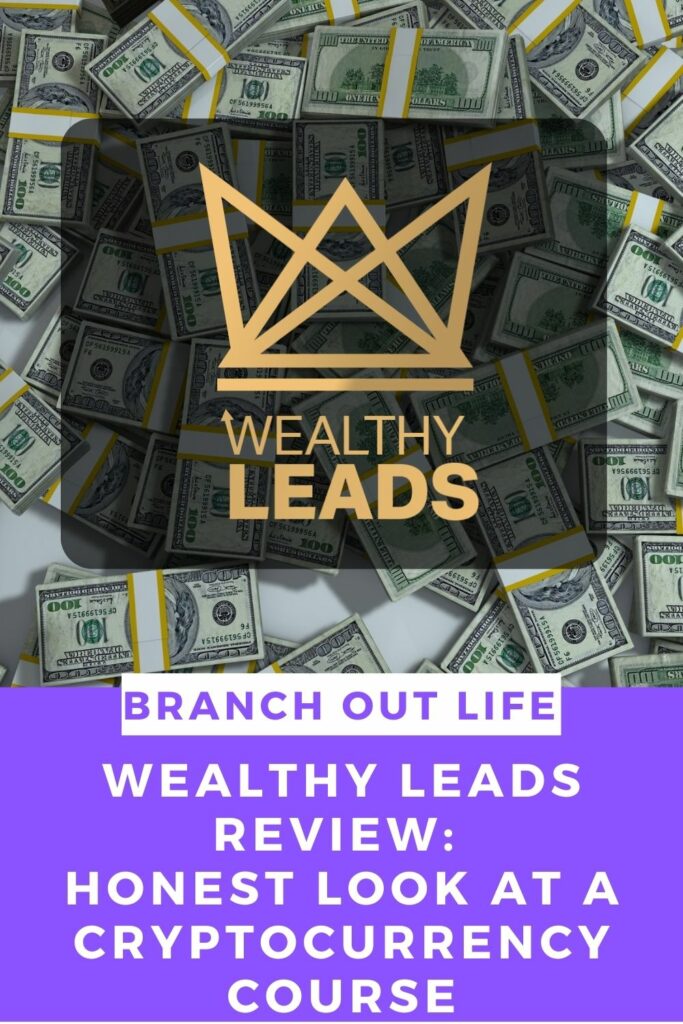 Overall, I would have to give this course a thumbs down. There is simply not enough evidence to support the claim that it can make you 7-figures.
For beginners, this could be especially nerve-wracking. Cryptocurrency can often be a difficult income opportunity to master.
With no guaranteed returns as promised, it's hard to justify the cost of this course.

A Better Option to Create a Passive Income
Ultimately, I have a better training recommendation if you're looking to learn how to make money online.
My recommendation is Wealthy Affiliate. It's a training platform that teaches people how to build their own online businesses from scratch and eventually achieve financial freedom.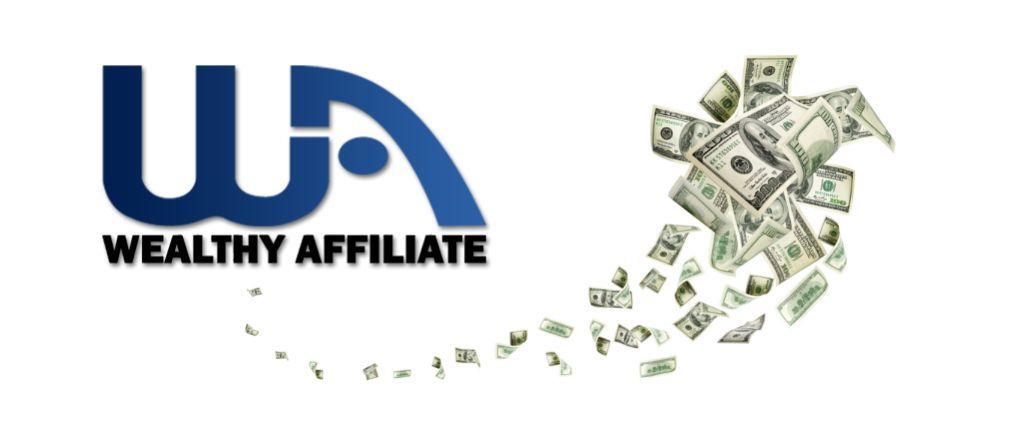 Wealthy Affiliate offers step-by-step training, a supportive community of experienced marketers and entrepreneurs, live events, and access to powerful tools like keyword research, hosting, and more.
Plus it's much more affordable than the Wealthy Leads. You can create a FREE account and get started right away.
So if you're serious about making money online, I highly suggest checking out Wealthy Affiliate. Sign up Below: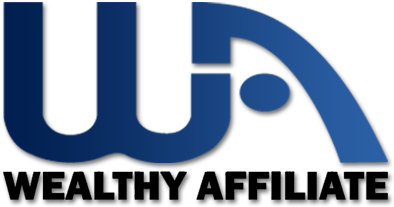 Wealthy Affiliate
Join the Online Training Platform that has Personally Helped Me Create a Profitable Business Online. Let the WA Community Help You Reach Financial Freedom!!