Ever think about how great it would be to be able to put your affiliate/website links on some of the most trending videos and sites. Imagine putting your sales link up on a video that is already getting hordes of traffic. You'd be sure to get people pouring in to your offers, Right? Well as much as I'd like to say that this concept is a reality, I need to make you aware of a new software that gives you the illusion that hijacking a site is an option. In this Videlify Review, I'm going to take you inside this product that claims to do just that. I'll be going over, What it is, How it Works, and I will give you the blunt truth on the legitimacy of this app. So let's get right to it.
Videlify Review – What is Videlify?

Videlify is a cloud based app, where they claim, it will give you the ability to put your affiliate links on virtually any video or website.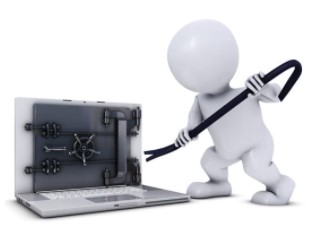 Yes, you read that right. Apparently, this app can basically hijack any trending video or popular website and drive free traffic to your offers. This is something that would definitely be a game changer for a lot of online entrepreneurs struggling to get traffic to their offers.
Now, I know what you're asking yourself. Is this app Legal?
Before I answer that I want to make something clear. It is NOT possible for anyone to change a website or video without having admin access to make those changes. That being said, it is not possible to just add your links to a website/video without having the editing credentials.
Ok so, Is this product legal. The quick answer is Yes. How?
Follow My Proven 4 Step Formula
Whether you are just getting started, have some experience, or are an ultra-successful affiliate marketer, this 4 step formula is made for you!
Well, upon acquiring a copy of this product I can honestly tell you that it doesn't actually do what it is claiming to do. It does however give you the illusion that you are actually putting your link on a chosen site or video. I'll explain this next.
Videlify Review – How Does Videlify Work?
First off let's take a look at the video they give to show how this software works.
Hijacking Video
Alright, so as you see in the video above, you start off your campaigns by creating a small video ad. You then customize it with a call to action. This is where you would insert your affiliate links.
After your video is done, you then choose a video to insert your ad. You then choose the options as to how you want the ad to display. Now at this point is where the illusion happens.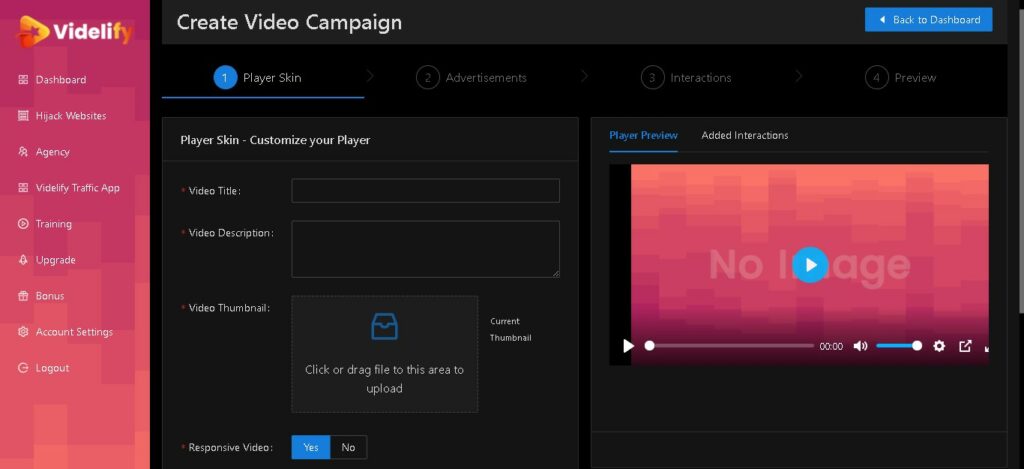 When your video is finally done you are taken to the next step which is direct linking and sharing. It is here that you will be given a link that you then can share to social media or other media sharing platforms.
Hijacking Websites
The process is similar for websites only here you type in a interest search and popular articles are brought up. From here, you just choose which article you want to put your ad and how you want it displayed. Again, you are taken to the sharing and direct linking step.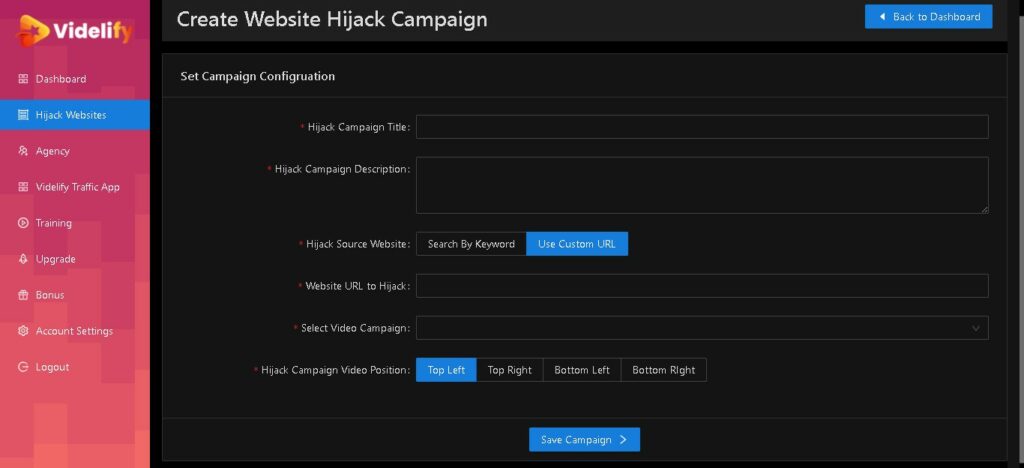 Videlify Review – Here's the Catch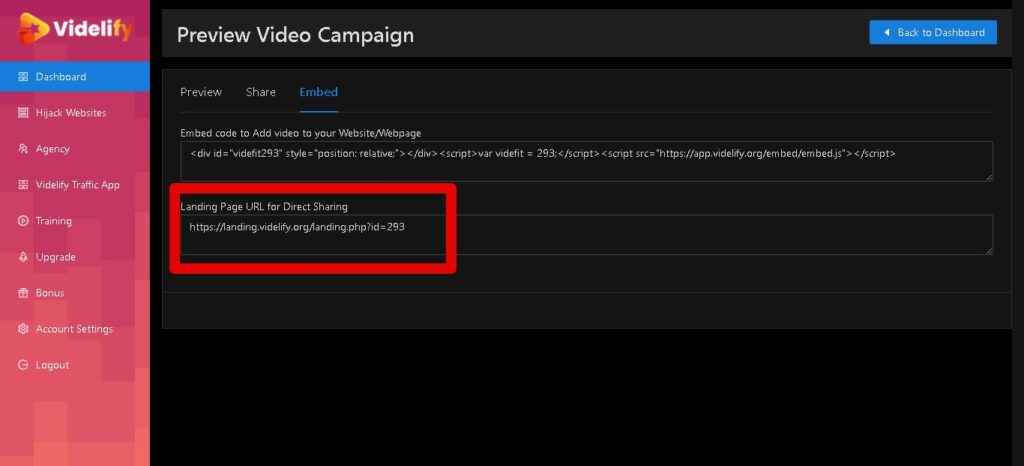 As I stated earlier, you can NOT just hijack and edit a site you do not have admin access to. No matter what kind of software you have. Basically what they are doing is giving you a copy of a video or site you have chosen. This then allows you to paste your ad onto it. If you notice above the link that they give you is hosted by Videlify. It is not an actual link to a video or site you choose. This is where your finalized ad is stored. Ready for you to share.
Your Promised Hordes of Traffic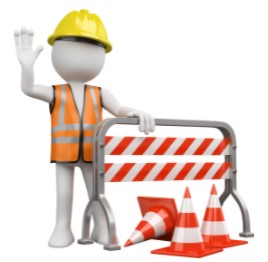 Speaking of Sharing, this is actually the way in which they expect you to get the loads of traffic that they promise. That's right they tell you to share it to your social media accounts or media sharing sites, but the whole idea was to get traffic from the real website and videos you've chosen. Right?
Now, this doesn't mean that you won't get traffic through this method. However, it is not going to get you a surge of hungry buyers pouring into your offers.
I have seen other products use this method time and time again. Videlify, pretty much rehashes this method but gives you this illusion that you will get the traffic from the popular sites that you've chosen. Very Deceiving.
What's the Buying Process?
I will do a quick run down of the buying process, if in some way you are still interested.
Upon purchasing Videlify you will be given the option of these upgrades.
Videlify Regular ($17) – The Main Product
OTO1: Videlify Pro ($37) – Get unlimited ads and Social Accounts
OTO2: Videlify Advanced ($47) -More Customization options to your ads
OTO3: Videlify DFY Toolkit ($47) – Gives you some pretty good media and graphic add-ons
OTO4: Videlify Agency ($97) – Get access to use this software for clients
OTO6: Videlify Reseller ($67 – Unlimited Licenses) – Resell Videlify
I must note that there are some bonuses that come with Videlify that are actually really useful and would be worth the purchase of the product. I was actually very impressed with them. So if anything check out the product for these bonuses.
Pros and Cons
Pros
Good as a Video Ad Creator
Impressive Bonuses
Cons
Deceiving Claim on Hijacking Traffic
Uses a method that is way Overused
Limited on customizations
Videlify Review – My Final Verdict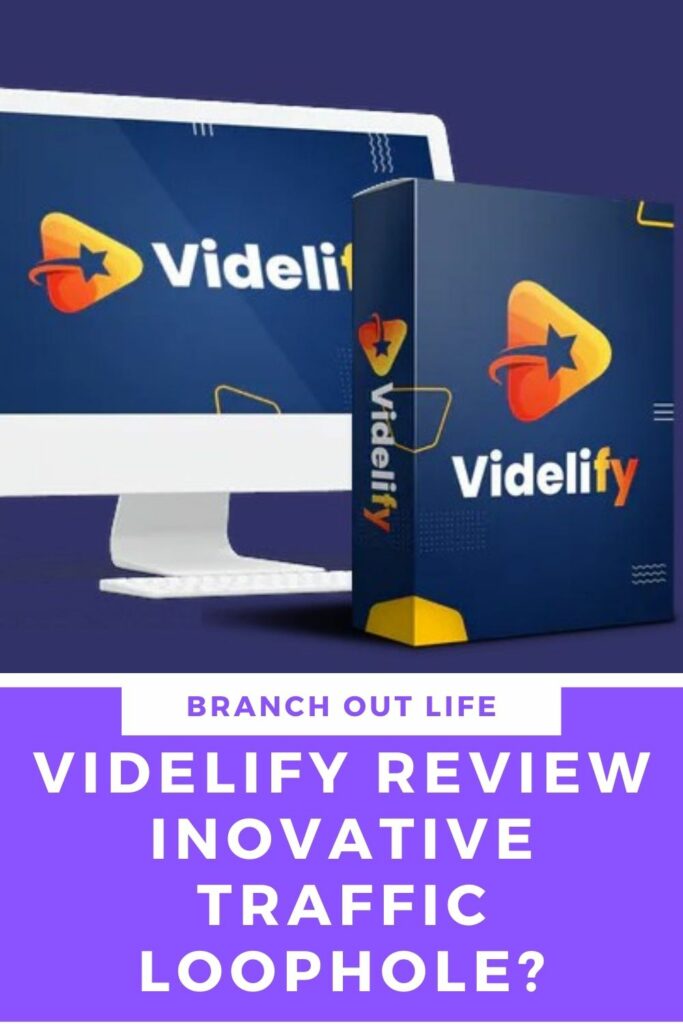 As I stated earlier, Videlify uses a method that has been used in many products like it. Getting traffic through Social Sharing is nothing new, and the amount of traffic you would actually get really depends on the network of contacts you have in these platforms.
The problem here is the fact that they tell the user that you will be able to harness the traffic from a site/video that you choose. This is not the case, as you are actually taking a copy of these sites, editing this copy with your video ad, then you are told to share it. That is the illusion in a nutshell.
The product isn't all bad. There are some great bonuses and the ability to create these video ads is rather impressive. If anything you could use this app as a video ad creator. In this light the product is worth it.
If you'd like to give it a look Click Below
Training That Can Get You Traffic The Right Way
If you are an an online entrepreneur struggling to get traffic to your offers, there is a better way. Learn to do it the right way. Check out my #1 Top Recommended FREE Affiliate Marketing Training Platform, that will teach you how to start a profitable business online.
You will get Free Websites, Weekly Training, Available Coaching, Free Hosting, Training in various online business categories (including traffic methods), and a whole community of successful members ready to help you every step of the way.